About Richard III
Why all the fuss?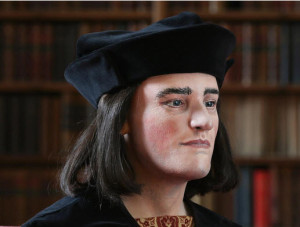 Richard III facial reconstruction

Who is Richard III and why all the fuss?
Richard III (2 October 1452 – 22 August 1485) was King of England from 1483 until his death in 1485, at the age of 32, in the Battle of Bosworth Field. He was the last king of the House of York and the last of the Plantagenet dynasty. His defeat at Bosworth Field, the last decisive battle of the Wars of the Roses, marked the end of the Middle Ages in England. Following the discoveries of Richard's remains in 2012 it was decided that they should be reburied at Leicester Cathedral despite feelings in some quarters that he should have been reburied in Yorkshire. His remains were carried in procession to the cathedral on 22 March 2015, and reburied on 26 March 2015.
After his death in 1485, Richard III was badly vilified and maligned by subsequent monarchs and writers. The Society aims to redress the balance by drawing attention to the inaccuracies and fictions of history and to restore Richard's reputation.
Some of the sticking points on which historians differ about Richard are summarised in the following list
Richard was a hunchback and had a deformed arm
Richard murdered (or arranged for the murder of) his young nephews who were living in the Tower of London under his care.
Richard was evil, greedy and manipulative
Richard  had no claim to the throne – he was a usurper
Ricardians and some historians refute most, if not all of these statements.  The controversy and drama surrounding Richard's life and actions remain a constant source of debate and interest to this day.  That is why the society has kept on existing and as more evidence comes to light, we hope to restore Richard's reputation.
QUICK FACTS ABOUT RICHARD III
Name : Richard III
Parents : Richard, Duke of York and Cecily nee Neville
Born : October 2nd 1452
Death : August 22 1484
Place of Birth : Fotheringhay Castle, Northamptonshire, England
Place of Death : Bosworth Field, Leicestershire, England
Spouse : Anne Neville, daughter of the Earl of Warwick
Children : Edward of Middleham born 1476
coronation date : July 6 1483
A great Blog 'Roots to Now' details the DNA comparison and how Richard III's mT-DNA and that of the living relatives matched.